Video analysis: From coaches for coaches
With principle quite simple. Thoughts from Robert Richter on implementation-oriented video analysis
"Video again today!" and "It's nice and dark and I can sit back and relax, maybe there's something for me and maybe this time I'll finally be in a scene ... or again only from the top players from the 1st team?"
This is probably the feedback that some of us coaches, who also work in the youth sector, have already received, especially from players who have already made it into the training squad, but who do not yet appear in the top matches. I in any case ... :/
But how cool would it be if the 17th player in the squad said after the training: "The video helped me a lot to orientate myself in the game and to decide successfully. Especially in the performance phase, it's important to focus on more than just individual aspects of the game, to further strengthen your own strengths across the board and to focus on reducing weaknesses.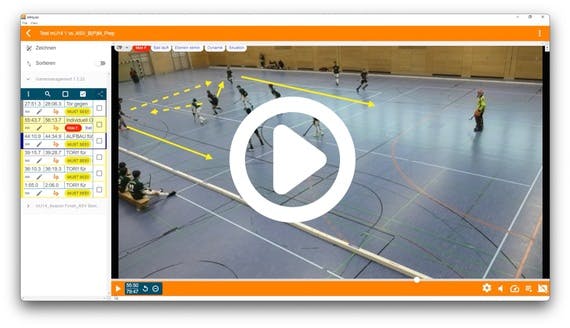 The terms used in the video are explained in the glossary.
My tip: Make analyses as concise, interactive and action-oriented as possible:
Keep it short by dealing with 3 to max. 7 scenes and clearly naming the focus, the relevant familiar principles, in advance.
Interactive, in that the players present their own solution suggestions based on the principles.
Implementation-oriented, in that the practice and game forms in the later stick part take up the game principles discussed on the video and possibly even the game constellations again and the results of the video session flow directly into the coaching and the feedback loops in practice.
The central tool for this linkage is the analysis schema, which should contain labels for the game principles on which the own game model is based, in addition to the events. Athlyzer's Schema Assistant is the perfect, intuitive tool for this purpose!I understand game principles as guidelines and orientation that empower one to decide and act effectively on the court - and which they also support again and again as coaching codes. If the players are familiar with their set of principles from workshops, meetings, analyses and, above all, from coaching sessions in training and games, then our number 17 also easily derives direct added value for himself from discussing the scenes of his teammates. And towards the end of the season, as in the video example above, 15 minutes of video with a U14 team can take place at a differentiated tactical level and at a rapid pace.In addition, here's a tip from a colleague who helps me a great deal in the youth sector.Why don't you cut scenes from your junior team and analog scenes from absolute top teams one after the other - in a principled way - for huge inspiration and a real learning booster for the youngsters?